Seasoned Ground | Martha Street Studio Exhibition & Sale

30 November – 28 January 2023
Just in time for the holiday season, come to GBG and enjoy seeing work by some of the province's finest printmakers and maybe find the perfect gift!
Spanning intimate interiors and expansive environments, Seasoned Ground burrows into the intimacies of place and space and finds nourishment in the small corners of familiar rooms and cozy diversions.
Through radical explorations of colour and shape, Seasoned Ground express faith in the power of sustained looking and thoughtful contemplation. From the Escher-like paradox of an endless yet self-contained staircase, to playfully inquisitive arrangements of matchsticks, Seasoned Ground reveals a depth that sustains us.
Meandering through a diverse range of printmaking techniques, from the soft subtleties of intaglio and lithography to the sharp shouts of linocut and relief printing, Seasoned Ground carries reflections and meditations through 35 years of printmaking at Martha Street Studio into the dynamic currents of today.
Free Card Printing Event with Letter Peddler Press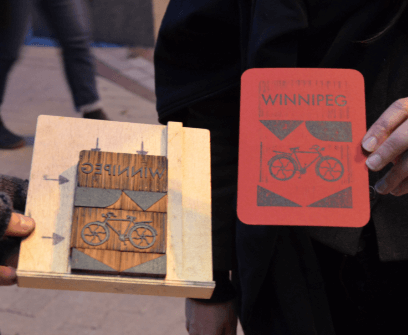 11am – 3pm Thursday 30 November
Letter Peddler Press is portable print studio that encourages the public to design and print their own unique letterpress postcards using laser cut images on a miniature printing press that they can mail to friends and family on the spot.

Letter Peddler Press started in 2015 and is a project by Sean McLachlan @letterpeddlerpress @printmongerpress
Bias Outside the Box (BOB)
by Dr. Rehman Abdulrehman and Ian McCausland, is a public art installation visible at the southeast exterior of the Everett Atrium here at St. Boniface Hospital. It is part of Nuit Blanche, 2021, and will be up for an extended period of time as part of a larger group of exhibitions on the same theme.
Bias Outside the Box (BOB) is an online personal learning tool based on a combination of the science of psychology and the art of photography. Dr. Rehman Abdulrehman (Lead With Diversity) and Ian McCausland teamed up to create portraits of people from various ethnicities, in cultural dress. These photographs are presented to the viewer in an attempt to help people identify their own bias so they can readily work on changing it.
If you would like to learn more about this display and your own biases please visit: https://leadwithdiversity.com/testbias/
This display is brought to you by the Buhler Gallery, St. Boniface Hospital Foundation and Culture Days.
EN FRANÇAIS
Par Rehman Abdulrehman et Ian McCausland. Il s'agit d'une installation d'art public visible depuis l'extérieur du côté sud-est de l'atrium Everett de l'Hôpital Saint-Boniface. Elle faisait partie de la Nuit blanche en 2021 et, en raison de sa popularité et de l'engagement de l'Hôpital à être un lieu de travail inclusif, elle sera exposée pendant une longue période dans le cadre d'un groupe plus large d'expositions sur le même thème.
Bias Outside the Box est un outil d'apprentissage personnel en ligne qui allie la science de la psychologie et l'art de la photographie. Rehman Abdulrehman (Lead With Diversity) et Ian McCausland ont fait équipe pour créer des portraits de personnes de diverses ethnicités, en tenue culturelle. Ces photographies sont présentées aux spectateurs dans le but d'aider les gens à identifier leurs propres préjugés afin qu'ils puissent s'engager à les changer.
Si vous souhaitez en savoir plus sur cette exposition et sur vos propres préjugés, veuillez consulter le site : https://leadwithdiversity.com/testbias/
Cette exposition vous est présentée par la Galerie Buhler Gallery, la Fondation de l'hôpital Saint-Boniface et la Fête de la culture.
___________________________________________________________________________________________
Follow us on Instagram: @galeriebuhlergallery